NEET mandatory even if medical courses pursued in foreign universities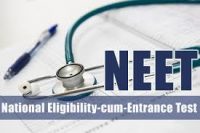 The Centre has made the National Eligibility-Cum-Entrance test (NEET) mandatory for even those who wish to pursue medical courses in foreign universities.Union Health Ministry has approved a proposal of Medical Council of India (MCI) to amend the Screening Test Regulations, 2002, making it mandatory. In a statement, the Ministry said, Indian students intending to obtain primary medical qualification from any medical institution outside India, on or after May 2018, will have to mandatorily qualify the NEET for admission to MBBS course.
The MCI proposal came after it came to notice that medical institutions of foreign countries admit Indian students without proper assessment or screening of the students' academic ability to cope up with medical education and as a result many students fail to qualify the screening test.
Before this, Indian students were allowed to pursue medical education abroad and they have to qualify a screening test called Foreign Medical Graduates Exam for registration in India after obtaining primary medical qualification-MBBS overseas.
The Ministry said, the result of NEET will be deemed to be treated as the Eligibility Certificate for such persons, provided that they fulfil the eligibility criteria for admission to the MBBS course. NEET was introduced in 2016 for admission to government and private medical colleges in India.