N L Sharma, SJVN Honored with HR Leadership Award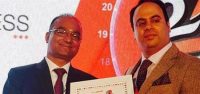 Shri N.L. Sharma, Director (Personnel) has been honored with HR Leadership Award.  This award was presented during Global HR Excellence Awards ceremony held at Mumbai today. TIMES Ascent World HRD Congress presented these awards to recognize and appreciate the talented individuals in the industry. The awards are selected by the eminent jury members, which consists of senior leaders, researchers and academicians based on the competency benchmarks including Strategic Perspective, Track Record, Ability for Sustainability, Future Orientation, Integrity and Ethics and HR Impact (Internal to the Organisation).
He has been awarded for establishing a robust Performance Management System in the Company.  This has helped the company to align individual employee targets with organizational goals and has resulted in achievement of excellent ratings of SJVN by Government of India.
On this occasion, Shri Nand Lal Sharma, Director (Personnel) informed that HR interventions made in SJVN has played a crucial role in the best performance of the company and its remodeling of business plan.  Effective implementation of Balanced Scorecard to achieve organizational targets has resulted in Excellent MOU rating for the past three years.  Imparting minimum two man days training to 90% employees in each financial year is one of the major achievement among the peers in industry.
Shri Sharma said that SJVN has also witnessed positive changes amongst the stakeholders, be it the government, general public or the communities affected due to project activities. This has been possible due to the innovative changes in the existing policies.