Mazagon Dock delivers 1st scorpion class submarines to Indian Navy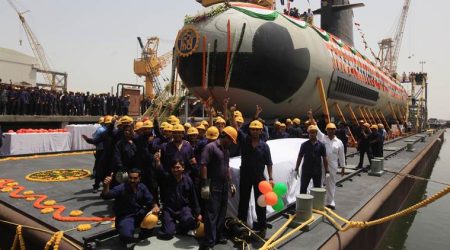 The state-owned Mazagon Dock Limited in Mumbai delivered the first of six scorpion class submarines to the Indian Navy yesterday. The submarine, INS Kalvari will be commissioned soon.
A senior Navy official said, the development marks a major milestone in Indian Navy's submarine programme as the vessel is expected to bolster India's maritime prowess.
The six submarines designed by French naval defence and energy company DCNS, will replace the Indian Navy's aging Sindhughosh and Shishumar class of submarines.
A Mazagon Dock Ltd statement said, the second of the Scorpenes, Khanderi is currently undergoing the rigorous phase of sea trials. The third Scorpene, Karanj is being readied for launch later this year. The rest are in various stages of outfitting.
The construction of the submarine INS Kalvari, which was named after a deep sea tiger shark began in 2009. The submarine was undocked from pontoon on 6 April 2015 and completed the Basin trials and Harbor acceptance trials in April 2016. On 2nd March 2017, INS Kalvari test fired a Exocet anti-ship missile in the Arabian Sea.