Mahesh Sharma unveils 8th edition of Theatre Olympics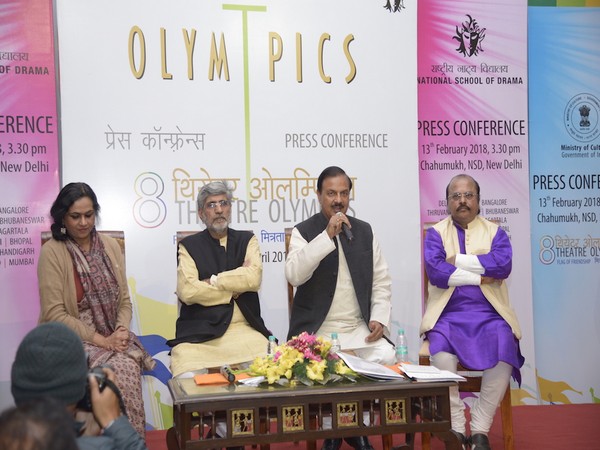 Theatre lovers in India have a reason to rejoice! The country is set to host the largest international theatre festival – the 8th Theatre Olympics – for the first time, with participation from 30 countries in a series of performances to be held across India. While unveiling the festival here, Union Minister of State for Culture (IC), Dr Mahesh Sharma said, "I thank and congratulate the international theatre community for providing India this grand opportunity. A country is recognised by the richness of its culture. Although technology has changed our lives, theatre has its own identity, strength and importance."
"We would witness the world's largest cultural confluence with 65 global productions. Theatre mirrors our lives and is a strong and powerful medium which intricately and beautifully portrays social issues on a larger platform. India is proud to host the 8th Theatre Olympics 2018 and showcase its cultural strength to the world," Sharma added.
The 51-day-long event will be inaugurated at the majestic Red Fort on February 17 by Vice President Venkaiah Naidu.
The 8th Theatre Olympics 2018 will travel to 17 Indian cities with 450 shows, 600 ambience performances and 250 power packed youth forum shows with participation of 25,000 artists from the globe. The festival will be concluded on April 8 with a grand ceremony at the iconic Gateway of India in Mumbai.
The theatrical extravaganza is being hosted in India by the National School of Drama under the aegis of Ministry of Culture, Government of India. The theme of the 8th Theatre Olympics is 'Flag of Friendship' that aims to bridge borders and bring people of different cultures, beliefs and ideologies together through the medium of theatrical art.
During the festival, plays will be held in Agartala, Ahmedabad, Bengaluru, Bhopal, Bhubaneswar, Chandigarh, Chennai, Delhi, Guwahati, Imphal, Jaipur, Jammu, Kolkata, Mumbai, Patna, Thiruvananthapuram and Varanasi.
Participants from 30 countries including Australia, Bangladesh, China, Czech Republic, France, Russia, United Kingdom and U.S.A. would showcase their acumen in theatre.
Theatre and film veterans of the likes of Shabana Azmi, Paresh Rawal, Manoj Joshi, Himani Shivpuri, Seema Biswas and Saurabh Shukla will also take part during this grand theatrical treat.
"We are extremely proud to bring the world's largest theatre festival to India. During this 51-day long nationwide celebration of the 8th Theatre Olympics, we attempt to bridge the borders across countries through the call of theatre and engage in creating a global village," said Dr. Arjun Deo Charan, Acting Chairman of National School of Drama Society