Himachal CM inaugurates various developmental projects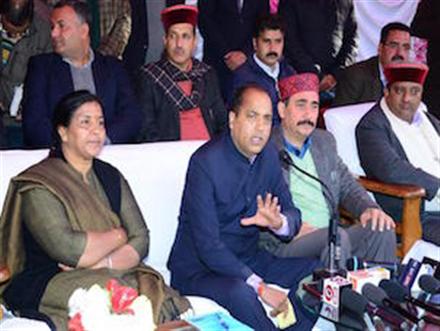 Himahcal Chief Minister Shri Jai Ram Thakur laid the foundation stone for the upgradation of a five and a half kilometres road from Sakoh to Chellian in Dharamshala constituency which would cost Rs 2.35 crore.Thakur also inaugurated a bridge over the Dodan Nallah in Kand Kardiyana completed with an outlay of Rs 1.08 crore providing all-weather connectivity to Khaarti and Jule village in Kangra district, officials said.
The 25-metre long bridge, constructed under the PMGSY, would connect the Palampur Assembly constituency with the Dharamshala Assembly segment, they added.Earlier, while in Palampur constituency, the chief minister inaugurated the 58th Senior Volleyball Championship at the Martyr Vikram Singh Batra Stadium.
Thakur also laid the foundation stone of augmentation of Ghaad-Bhodhal lift drinking water supply scheme which would cost Rs 1.48 crore. The scheme, when complete, would benefit around 10,000 people living in 20 villages.