FICCI ladies Organisation signs MoU with AWEN in Philippines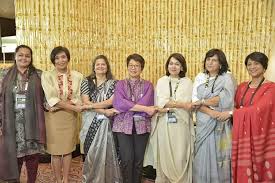 FICCI Ladies Organisation (FLO) signed a Memorandum of Understanding (MOU) with ASEAN Women's Entrepreneur Network (AWEN) in Philippines, at the ASEAN Business Summit, where Mr. Narendra Modi, Prime Minister of India addressed along with other world leaders like President of United State, Donald Trump; Prime Minister of Canada, Justin Trudeau; Prime Minister of Japan, Shinzo Abe among others.
The objective of the MoU is to promote trade exchange and investment between India and ASEAN women with the purpose to deepen existing economic relations. Both FLO & AWEN shall take concrete steps to foster friendship and understanding between the business women of India and ASEAN to promote cooperation in trade, investment, services and women economic empowerment between both the countries. As leading business organizations in India and ASEAN region, FLO and AWEN are both committed to promote trade and investment between India and ASEAN Counties.