DoPT appoints 18 Technical Members at National Company Law Tribunal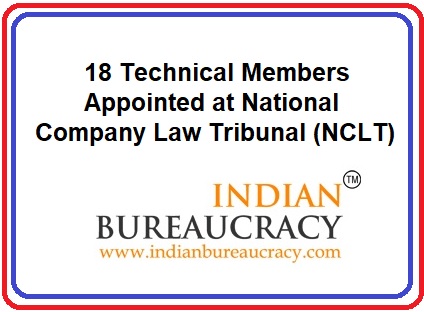 Indian Bureaucracy NCLT Appointments Update | The appointment of 18 Technical Members for the National Company Law Tribunal (NCLT) for a term of three years has been approved by the the Appointments Committee of the Union Cabinet with Shyam Babu Gautam presently with Director Inspection and Investigation, Kapal Kumar Vohra currently Retired ED- RBI, Anil Kumar B presently a Director with Kochi Metro Rail, Sumita Purkayastha , currently Retired IP&TAFS and  Ex Controller General of Communication Accounts, Rajesh Sharma currently Director, HSIIDC .
The names also include Chandan Bhan Singh presently IES, Addl DG, BIS Laxmi Narayan Gupta IAS of Odisha 1986 batch presently  Addl Chief Secretary , Satya Ranjan Prasad  CGM with SEBI, Raghu Nayyar an Advocate and Legal Consultant, Chockalingam Thirunavukkrasu  the Retd. BHEL Finance Director, Veera Brahma Rao Arekapudi  the Retd. GM of SBI, Hemant Kumar Sarangi  Retd. IRS, and Ex-Chief Commissioner of Income Tax, Ashutosh Chandra – Retd. IRS, Former Member AAR, Prasanta Kr Mohanty , Retd. CGM- Indian Overseas Bank, Narendra Kumar Bhola , Retd. ICLS and Former DG- Corporate Affairs, V K Gupta , Accountant Member, ITAT, Rano Jain a CA and Binod Kumar Sinha , a Retd. IRS, and Former Principal Commissioner of Income Tax.