Dharmendra Pradhan urges private sector to consider recognition of Prior Learning to skill and upskill private security workforce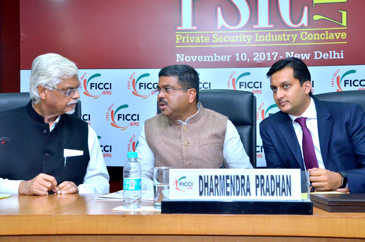 Dharmendra Pradhan, Minister of Skill Development and Entrepreneurship, Government of India,  urged the private sector to consider Recognition of Prior Learning (RPL) where without any financial implication private security workforce would be skilled and upskilled and provided certification.
Addressing a Special Session on 'Critical issues concerning Skilling and Training of Security Workers' at the fifth edition of 'FICCI Private Security Industry Conclave 2017', Mr. Pradhan said that there was a huge policy gap between private security industry and skill development, which needed attention. He called upon the industry representatives to engage in meaningful deliberations with his ministry to develop a mechanism to skill and certify workforce in the sector. He added that such an initiative would be a positive move for India'sease of doing business ranking in the World Bank.
The Minister said that the private sector was the lifeline of the country as it was contributing towards nation building by providing employment to the youth which was entering the workforce every year and also playing a productive role in strengthening India's economy. On the occasion FICCI-PwC Report on Private Security Industry was released by the minister. Ms. Manjari Jaruhar, Chair, FICCI Committee on Private Security Industry and Former Special DG, CISF, said that the government should authorize more institutes to skill and upgrade manpower in the private security sector. The minimum qualification for becoming a constable in the police force was 12+, but the private security industry was providing employment opportunities to the youth at the grass root level, even to those who had completed only 7th or 8th standard. She added that there was a need to make skilling robust for private security sector
as it was lagging behind.
Mr. Rituraj Sinha, Co-Chair, FICCI Committee on Private Security Industry and Group COO, SIS India Ltd., said that the private security industry was estimated to be ~INR 40,000 crore in terms of revenue with per annum growth of 18-20 per cent. The sector offered great employment opportunities as every year 3-5 new jobs were being created here. He added that the categorization of private security workers' as skilled and highly skilled has benefitted the industry.
Dr. Sanjaya Baru, Secretary General, FICCI, said that the government had not been able to fulfil the security needs of the nation creating a vacuum in the system. This became a business opportunity for the private sector and now the private security industry was meeting the demands of the market. He added that public policy, enforcement of the Private Security Agencies (Regulation) Act (PSARA), availability of skilled manpower, licensing and compliance requirements, were some of the challenges that needed to be addressed.
Earlier during the day, Mr. Vivek Bhardwaj, Joint Secretary (Police Modernisation), Ministry of Home Affairs, Government of India, said that the private security industry is a huge employer in Indian economy. The Government and security agencies need to work together to increase the productivity of security guards by investing in training and capacity building programmes.
Mr. Pankaj Khurana, Partner, Government and Internal Security, PwC India, said that the PSARA provides the policy and regulatory framework for the industry but its enforcement remains a challenge. Enforcement of skill-related reforms can ensure nation-wide standardisation in training on functional skills and core life skills and mandatory assessment and accreditation of individuals employed in the private security sector.