C K Mishra appointed Secretary | Ministry of Environment, Forests & Climate Change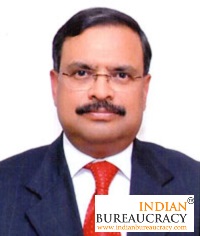 Shri C K Mishra IAS (Bihar 1983) presently Secretary, Ministry of Health & Family Welfare has been appointed as Secretary, Ministry of Environment, Forests & Climate Change in the vacancy caused due to appointment of Shri Ajay Narayan Jha IAS (MN 82).
Shri Mishra worked in the field of health administration being responsible for health systems delivery, firstly at the provincial level and presently at the Union Government level. He had most recently served as the Joint Secretary, MSME and Principal Secretary, Government of Bihar, holding portfolios of different departments such as Industry, Health and Power. Earlier he had also served as Resident Commissioner, Government of Bihar, and had also held positions as Director General in Public Relations Department; as Director in various departments, namely Handloom, Secondary Education, Industry as well as several field level postings as Sub-divisional Magistrate/Divisional Magistrate in various parts of the State of Bihar. In Government of India, he also held positions as Additional Development Commissioner (Handlooms), in the Ministry of Textiles; Director, Cabinet Secretariat and as Private Secretary to the Minister of Defence, New Delhi, before moving in the Ministry of MSME. Born in Patna, C.K. Mishra received his Bachelor's Degree in History (Hons.) from St. Stephens College, Delhi University. He also possess a Diploma in Media Law from NALSAR, Hyderabad. Has always had a keen interest in Theatre, contemporary Indian music and folk form of music.
IndianBureaucracy.com wishes Shri C K Mishra the very best.