Balraj Joshi appointed CMD | NHPC Limited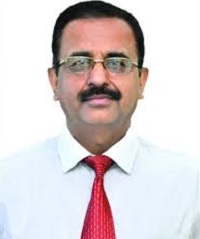 Shri Balraj Joshi presently Director(Technical), NHPC Limited has been appointed CMD NHPC Limited with effect from the date of his assumption of charge of the post and till 31.12.2019.
Shri Balraj Joshi holds a degree in Civil Engineering from Govt. Engineering College, Karad, Maharashtra. He also holds PG Qualification in Hydropower development and planning from the prestigious Norwegian Technical Institute, Trondheim, Norway under NORAD Scholarship. Shri Joshi joined NHPC in October 1982 as a Probationary Executive (Engg.) at Salal Project (J&K).
During his distinguished career spanning over 34 years, Shri Joshi scaled new heights and contributed to NHPC's development by serving many projects namely Salal, Dul Hasti, Kurichu Project (Bhutan), Teesta-V, Teesta Low Dam-III & IV, Parbati-III, Chutak, Chamera-III, Parbati-II etc. and rose to the position of Executive Director (Design & Engineering), NHPC. He has also been associated with NHPC's Consultancy assignments for many projects as 1200 MW Tamanthi and 880 MW Shwezaye in Myanmar, 720 MW Mangdechhu, Bhutan& Bakreswar thermal power project of M/s West Bengal Development Corporation etc. He has also represented NHPC at International Court of Arbitration at 'The Hague' for Kishanganga Project. In an outstanding display of commitment Shri Joshi successfully undertook the highly challenging work of resurrecting the Dhauliganga Power Station after its flooding. Shri Balraj Joshi has taken over as Director (Technical) of NHPC Limited on 1st April 2016.
IndianBureaucracy.com wishes Shri Balraj Joshi the very best.