ASSOCHAM will be celebrating its 98th Annual Function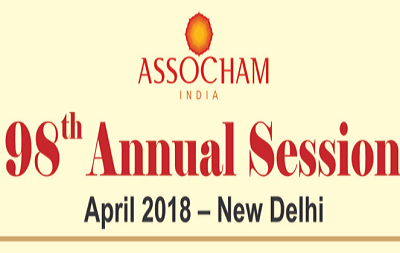 ASSOCHAM will be celebrating its 98th Annual Function, scheduled to be held in the month of April, 2018 on the date as per convenience of the Chief Guest at New Delhi. Shri Ram Nath Kovind, Hon'ble President of India has been requested to be the Chief Guest to Inaugurate the ASSOCHAM's Annual Function.
Coinciding with this important Function, ASSOCHAM will be organizing series of Conferences/ Seminars on topical issues. We will also be requesting to Hon'ble Union Ministers such as Shri Arun Jaitley, Shri Rajnath Singh, Shri Nitin Gadkari, Shri Piyush Goyal, Shri Suresh Prabhu, Shri Ravi Shankar Prasad, Shri Prakash Javadekar,  Smt. Nirmala Sitharaman and Smt. Smriti Zubin Irani to mention a few to address the august gathering alongwith other Union Ministers and senior bureaucrats. There will be an opportunity to interact with the policy makers and captains of business community from across the country.
In this connection, we request you to confirm your Sponsorship Support by way of Rs. 1 Lac (Special Benefits attached) or you may option for LOGO Support amounting for Rs. 35,000/- (Thirty Five Thousand Only). The Logo could be sent in (jpg or cdr format). On this occasion, ASSOCHAM will be coming out with Special Supplements in the leading newspapers containing Logos, Special features of the events to be organized on the above occasion in the prominent National Dailies such as Economic Times, Business Line, Business Standard, Financial Express and Indian Express carrying logos of those organizations who will be supporting by way of Sponsorship for this important function. Your esteemed organization will also get visibility at the venue of the event.