Ashwani Lohani appointed Air India CMD | Indian Bureaucracy Breaking News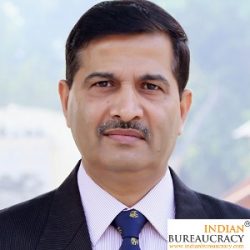 13.02.2019 | Indian Bureaucracy Latest News: Shri Ashwani Lohani IRSME (1980) (retired) as Chairman -Railway Board has been appointed the new Air India CMD.
Shri Lohani would be on contract for one year or earlier at the level of Secretary. In his previous term, Shri Ashwani Lohani had been the Chairman and Managing Director of Air India Limited since September 3, 2015. Shri Lohani served as the Managing Director & Commissioner Tourism- MP, CAO/IROAF, CME Northern Railway, DRM Delhi, Director of National Rail Museum, New Delhi, Director in the Ministry of Tourism Government of India, CMD of India Tourism Development Corporation and other important assignments in railways. He also serves as the Chairman of Air India Express Ltd. He is a life member of the Institute of Rolling Stock Engineers and the Museums Association of India and the Founder cum Working President of the Indian Steam Railway Society,writing over a hundred articles and columns on a variety of subjects in magazines and newspapers . He has been a Non-Executive Director of Air Mauritius Limited since October 30, 2015.
Shri Ashwini Lohani holds a Limca Record for having four "engineering degree equivalents" in Mechanical Engineering, Electrical Engineering, Metallurgical Engineering and Electronics & Telecommunication Engineering from Institution of Engineers, India; a place in the Guinness Book of World Records for successfully running the 'Fairy Queen Express', the world's oldest working steam locomotive. 
More posts on Ashwani Lohani : https://www.indianbureaucracy.com/tag/ashwani-lohani/
IndianBureaucracy.com wishes  Shri Ashwani Lohani the very best.