Aerobatic display teams mark the conclusion of Aero India 2017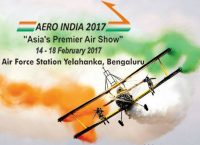 To mark the successful conclusion of the Aero India 2017 and to serve as a token of remembrance of fruitful association over the last few days during the airshow, the aerobatic display teams got together today. Posing in front of the Grumman G-164 A of the Scandinavian team and the Yak-50 of the Yakovlev team, stunt pilots of the Surya Kiran Aerobatic team (SKAT), the Yakovlevs and the Scandinavian along with their three 'skycats' provided for a visual treat. The SKAT pilots, led by Wg Cdr Ajit Kulkarni, looked resplendent in their red flying overalls.
The Scandinvan leader Jacob Hollander's flying suit matched the colour of his flying machine while the skycats placed themselves atop the yellow and blue airplane for photographs. The Yakovlev pilots, led by Jez, in their black flying suits gave a very professional look. After the 'photo session' the SKAT daredevils met up with the spectators to shake hands and distribute memorabilia.