Aero India 2017: Netra, a home-grown eye in the sky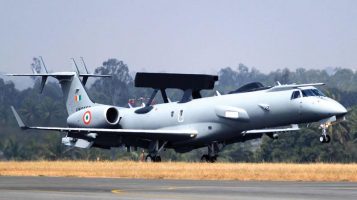 A few minutes after noon , Defence Minister Manohar Parrikar stepped out of a gleaming, silver colored aircraft, christened "Netra" at Aero India 2017, and remarked "it's an important hallmark to have an indigenous system," marking the fruition of late prime minister Indira Gandhi's dream for a home-grown eye in the sky, the Airborne Early Warning & Control (AEW&C) System.
Mr Parrikar, who checked out an array of computers on board which process signals picked up by the radar atop the aircraft and identify up to 300 enemy targets, said "This is a technology demonstrator, but we will use this aircraft, and develop an advanced AWACS in eight years. We will fit the radar on top of Airbus 330 which was chosen through a global tender. We will have six such AWACS aircraft which can scan the skies up to 400 km."
Dr S. Christopher, Chairman, DRDO, said "We are delighted to see Tuesday's induction (by the Indian Air Force). We would like to see the induction of AWACS as well." This aircraft flew past the Defence Minister and other VIPs at the inaugural of Aero India 2017. It made its debut at the Republic Day parade in New Delhi earlier this year.
The original plan for design and development of such a force-multiplier for the IAF took shape after Mrs Gandhi asked defence experts to design such a system early 1980s. During a visit to 'Indira Point' in the Indian Ocean, she asked whether such an aircraft could be designed and developed to spot targets up to Antarctica.
Soon, Dr V.S. Arunachalam, scientific adviser to defence minister, put together a team which used a report drawn up by the late Dr Ramdas P Shenoy, director, Electronics and Radar Development Establishment, Bengaluru, and regarded as father of research and development in radar technology, and commenced work on the indigenous AWACS.
"We were told that no country will part an aircraft for such a project, so we used an AVRO, fitted a rotodome (a disc with the radar) on it, and carried out flight tests," Dr K. Ramchand, who headed Centre for Airborne Systems (CABS), Bengaluru, for over a decade during design and tests of several cutting edge technologies, told DC.
A force multiplier for Arjun tank
Arjun MKII main battle tank just got deadlier! Navaratna defence PSU Bharat Electronics BEL has unveiled a new weapon control system – Remote Controlled Weapon Station (RCWS)/Air defence weapon for 12.7mm gun of the Arjun MKII MBT, at Aero India on Tuesday.
The RCWS is an improvised version of the manually operated air defence gun. It enables the tank crew to aim and fire at targets from the safe interiors of the battle tank. Currently 12.7 mm guns of all tanks are manually operated.
RCWS integrated on the Arjun MKII has successfully completed tank integration and firing trials in September 2015. The RCWS has also been developed for use on Armed Repair and Recovery vehicle (ARRV). Also the gun can find use on hovercrafts/fast moving boats for the coast guard.
The RCWS for the MBT Arjun MKII is intended to stabilize the NSVT 12.7mm machine gun along with optic sensors in traverse and elevation mounted on Arjun's turret. The system gives its operator the freedom to control the gun and sight from the operating console and a joystick inside the turret.
The optical sensors include a day camera, thermal imager and a laser range finder integrated on a single housing. The system allows automatic target tracking for air and ground targets and performs necessary ballistic computations to feed the ballistic offsets to the gun/sight.
The system also has a provision to allow the operator to automatically load and fire the gun. The RCWS meets all environmental specifications and EMI specs as per MIL STD 461 F databus.