NALCO celebrates 127th Birth Anniversary of Dr Ambedkar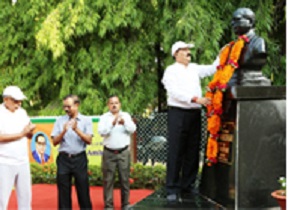 The 127 th Birth Anniversary of Bharat Ratna Baba Saheb, Dr. B.R. Ambedkar, was celebrated at Nalconagar, Bhubaneswar on 14.04.2018. Paying homage to the architect of the Constitution, Dr. Tapan Kumar Chand, CMD, Nalco, garlanded the statue of Dr. Ambedkar and paid floral tributes. Highlighting the life and contributions of Dr. Ambedkar, in his address, Dr. Chand said that India's power lies in its democratic systems and its diversity. "Drafting the Indian Constitution, Dr. Ambedkar has provided liberty, fraternity and equality to all citizens thereby enabling active participation in politics and public life", said Dr. Chand.
"We must draw inspirations from his ideas and our action and activities should be aimed towards inclusive growth, which will ultimately pave path for a forward looking & progressive nation," he added. Directors of the Company, Senior Officials along with employees and other distinguished personalities from different walks of life also joined the celebration and paid their homage to Dr. Ambedkar.