World Food India 2017 fair is mega platform for all stakeholders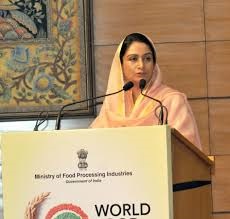 World Food India 2017 fair is a mega platform for all the stakeholders in the food value-chain to come together, bringing-in FDI and technical know how. Union Minister for Food Processing Industries Harsimrat Kaur Badal said.
She said that participants from more than 30 countries would be exploring opportunities in the food processing sector in India. The mega fair is being held in New Delhi from 3-5th November 2017.
On the issue of the flagship scheme of her ministry – Mega Food Parks she said that 6 mega food parks were made operational in just two years compared to just 2 food parks in 6 years between 2008 and 2014. You can listen to the complete interview in our program "Countrywide" tonight at 9.30 pm on AIR FM Gold and additional frequencies.