Sports Ministry talent search Scholarships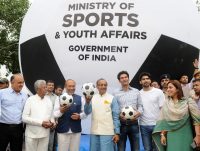 Minister of State (Independent Charge) of Youth Affairs and Sports, Shri Vijay Goel has invited players with a minimum age of 8 years to upload their video, or bio- data on the Sports Ministry Talent Search Portal, after which young players will be adopted and given scholarships by the Sports Authority of India. "1000 children will be given scholarships", Shri Vijay Goel added. He also said that he has been checking out the facilities at different venues of FIFA Under-17 World Cup.
The Sports Minister was speaking at an event to launch a 25-ft ball to popularize football in the country. Chief Minister of Manipur, Shri Biren Singh, was the chief guest at the event. The Manipur Chief Minister expressed happiness at India hosting the FIFA Under-17 World Cup. Shri Biren Singh has been a national level football player himself and has promoted the cause of football in the country.
The objective behind the event is to popularise football in the country, in view of FIFA Under-17 World Cup being hosted in India from October 6 to October 28, 2017. The event is a step towards restoring Indian football to its past glory of 1950s and marks another step forward in the direction of Prime Minister's vision, as outlined in "Mann Ki Baat" programme, to take football to every village in the country.
Well-known cricketer Mohammed Kaif was also present on the occasion. Apart from other dignitaries, around 100 football-loving children were a part of the gathering.