Specialized Healthcare Units in Rural Areas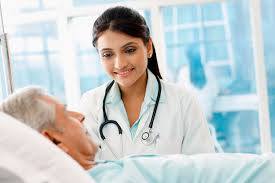 Public Health being a State subject, it is primarily the responsibility of the State Governments to provide health care to the people. However, financial and technical assistance is being provided to the States/UTs under NCD Flexipool for strengthening existing healthcare facilities including setting up of infrastructure, training of doctors and para medical staff, etc. as per State specific Programme Implementation Plans (PIPs).
 Government of India is implementing National Programme for Prevention and Control of Cancer, Diabetes, Cardiovascular Diseases and Stroke (NPCDCS) for interventions up to District level under the National Health Mission. It has focus on providing better healthcare services by strengthening the existing healthcare facilities. Under NPCDCS, diagnosis and treatment facilities for major NCDs are provided through different levels of healthcare by setting up of NCD Clinics and CCUs in District Hospitals and Community Health Centres (CHCs).
 The Government has initiated a scheme namely- Assistance for capacity building for developing trauma care facilities in Govt. Hospitals on National Highways from 11th Five Year Plan (FYP).  During the 11th FYP, under the scheme, the Government identified and funded 116 Hospital in 17 States along the National Highways for setting up of Trauma Care Facilities. Out of the 116 identified, 99 have already become functional and 3 are under construction.  In addition to the above, during the 12th Five year Plan, it is envisaged to establish Trauma Care Facilities in 85 Hospitals/Medical Colleges. So far 62 Hospitals/Medical Colleges have been identified and approved for establishing Trauma Care Facilities.
 Pursuant to announcement in Union Budget 2016-17 regarding starting of 'National Dialysis Programme' to be supported in all district hospitals in a PPP mode  under the National Health Mission (NHM), guidelines for implementation of the National Dialysis Programme have been shared with States on 7.4.2016.  The Guidelines also include Request for Proposals (RFP).  As per the Guidelines, the private partner is envisaged to provide medical human resource, dialysis machine along with Reverse Osmosis (RO) water plant infrastructure, dialyzer and consumables, while the space, power and water supply within District Hospital would be provided by the State Governments.  Support under the NHM would be provided to States for provision of dialysis services free of cost to the poor.  So far, approval has been provided to all States based on proposals received from them.
Financial Assistance is provided to the States with a cost sharing ratio of 60:40 between Centre and State except North-Eastern and Hilly States where the ratio is 90:10.