S Christopher gets extension as DRDO Chairman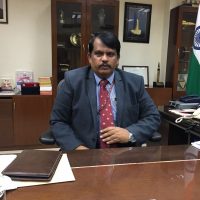 Dr S Christopher, presently Secretary DRDO and Chairman, DRDO has been given extension for a period of one year with effect from May 29.
Dr S Christopher was Programme Director for the Airborne Early Warning and Control (AEW&C) and Director, Centre for Air-Borne Systems (CABS), the lab vested with the responsibility of design, development of Air Borne Early Warning Systems.
Dr Christopher obtained his BE (Hons) in Electronics & Communication Engineering from University of Madras and M.Tech in Microwaves and Radar Engineering from IIT, Kharagpur and his Ph.D. in Antennae and Measurement Techniques from IIT, Madras.
Dr Christopher started his career as a Senior Engineer in M/s Bharat Electronics, Ghaziabad, before joining DRDO at LRDE as Scientist 'D'. He led a team to create the Indigenous Automated Planar near Field Measurement Facility at LRDE for the first time in the country. He was Project Director for LCA MMR and led the team for designing and developing slotted array technology, which was used for several airborne and missile projects including export to Poland. He was also project Director for ASP project and also for development of the Maritime Patrol Airborne Radar, Super Vision 2000, for the Indian Navy.
Dr Christopher joined the Centre for Air Borne Systems (CABS) in 2004 as Programme Director for the prestigious AEW&C programme. He was appointed Director CABS in addition to his responsibility as Programme Director AEW&C. He was elevated to the rank of Distinguished Scientist in 2012.
Dr Christopher is a Fellow of the National Academy of Engineers (FNAE), Aeronautical Society of India (AeSI) and the Institution of Electronics & Telecommunication Engineers (IETE). He is a member of SEE, IEEE and is a recipient of many awards including Scientist of the Year Award in 1998.
IndianBureaucracy.com wishes Dr S Christopher the very best.