Road accident victim's family get 16 lakh compensation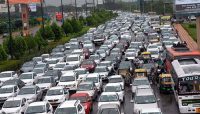 A Motor Accident Claims Tribunal (MACT) here has awarded over Rs 16 lakh to the family of a man who lost his life in a road accident involving a rashly driven car. MACT Presiding Officer Sanjay Sharma asked the National Insurance Company Ltd, insurer of the offending vehicle, to pay Rs 16.06 lakh to the family of Trilok Puri resident Ram Kishore who died in November 2015.
"It is proved that the man died in a motor vehicular accident caused by rash and negligent driving of the offending vehicle (car) by the driver," the tribunal said.
It asked the company to compensate the victim's family after noting that the offending vehicle had not breached any terms and conditions of the insurance policy.
"The respondent number 2 (owner of the offending vehicle) has not breached any term or condition of the insurance policy. The insurer shall indemnify the liability of the owner towards the petitioners in respect of the accident," it said, adding "the insurer is directed to pay compensation of Rs 16,06,000."
The tribunal noted that Kishore, a tailor by profession, is survived by his wife and four children.
In the plea seeking compensation, the family alleged that the cycle which Kishore was riding was hit from behind by a rashly driven private cab at Vasundhara in Uttar Pradesh on November 8, 2015.
Kishore was taken to a nearby hospital in the offending vehicle itself where he died.
The cab driver claimed that the accident had taken place due to negligence of the victim who was riding his bicycle on wrong side and suddenly came in front of his vehicle.