Indian Railways on massive Capex Spend Drive

The Railways is on a major capital expenditure drive with Rs 82,000 crore worth of orders being placed even as it is taking a slew of steps to upgrade customer service including clean stations, e-catering and improved software for ticket booking, Railway Minister Mr Suresh Prabhu said at 95th Annual Session of ASSOCHAM held in New Delhi .
"The Railways' capex spend would include a Rs 40,000 crore order with the GE which is the largest order for the global conglomerate," said Mr Prabhu in the inaugural session of the Annual General Meeting of The Associated Chambers of The Commerce and Industry of India (ASSOCHAM).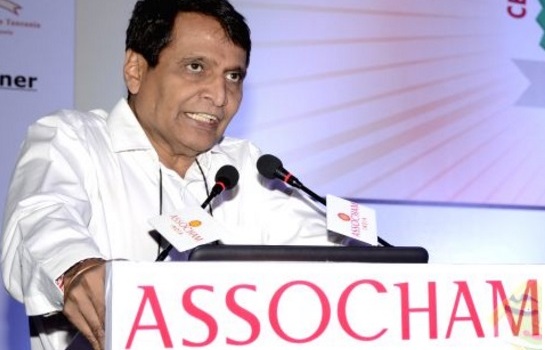 Mr Prabhu said, "As many as 103 announcements made in the Railway Budget for 2015-16 have been implemented with several stations showing marked improvement in cleanliness."Addressing industry leaders at the ASSOCHAM AGM, he said that capital expenditure of Rs one lakh crore on building new infrastructure would be spent within the current financial year in the most transparent manner.The level of transparency has gone up to an extent where "minister is not involved not in a single rupee worth of tender. All decisions are being taken at the professional levels," said Mr Prabhu."With 1.3 million employees, the Railways is also putting in place a transparent Transfer and Posting policy along with a fair system of recruitment," said Mr Prabhu. "The government's Digital India programme is being used by the Railways in providing e-catering with new facilities like base kitchens  being created."
As for structural reforms, the Railways, Mr Prabhu said, is trying to frame a regulatory system. "In the last one year or so, the situation has changed so much that despite Railways needing a massive resource, money is just not a problem."
"Money has been raised from the Life Insurance Corporation at a rate cheaper than the G-Secs", the minister said.
He said if things go as planned for the capex spend and boosting the Railway activity, this alone could contribute between two and 2.5 per cent to the country's GDP.
In his address, ASSOCHAM President Mr Rana Kapoor said that the chamber has been running a successful campaign for 'Believe in India' seeking to generate a positive environment for taking the economic growth to 9-10 per cent.