Purchase of Tanker Ships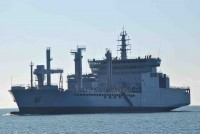 The Defence Acquisition Council has accorded Acceptance of Necessity to procure five Fleet Support Ships which, in addition to other roles, will also serve as tankers for the Navy. The tankers will be supplied by M/s Hindustan Shipyard Ltd. The cost will be finalised after completion of negotiations.
While escorting INS Vikramaditya during the Arctic sea passage from Russia to India in December 2013, Fleet Tanker INS Deepak had developed cracks in the connecting members between the superstructure and side shell plating of the ship. No cracks or damage were, however, observed on the primary structure of the ship. A Board of Inquiry constituted by the Navy in January 2014 concluded that there is a need for strengthening the connecting members between the superstructure and the side shell plating. The necessary repairs have been undertaken.