PM to leave for Davos to attend 48th World Economic Forum meet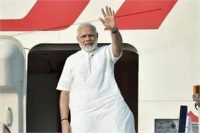 Prime Minister Narendra Modi will leave for Davos, Switzerland tomorrow to attend the 48th annual meeting of the World Economic Forum. He will lead the largest-ever Indian delegation comprising Finance Minister Arun Jaitley, Commerce and Industry Minister Suresh Prabhu among others. Mr Modi will deliver a keynote address on the opening day of the meeting on Tuesday.
Talking to our correspondent in Davos, Indian Ambassador to Switzerland Sibi George said, the Prime Minister will hold bilateral talks with the President of Swiss Confederation, Alain Berset tomorrow, besides holding a series of meetings with business leaders. He said, Mr Modi will also address the international business council.
Our correspondent covering the event reports, leaders across the globe will discuss burning issues confronting the world during the Summit.
Under the theme "Creating a shared future in a Fractured World", the Meeting aims to set an agenda to address political, economic and Social challenges of recent times.
Besides, arts and culture will feature prominently in the official program with special exhibitions, installations and musical performances.
This year, over 3,000 global leaders from business, government, politics, academia and social sectors are participating at the Summit which will conclude on 26th of January.