Observance of vigilance awareness week 2017 in AAI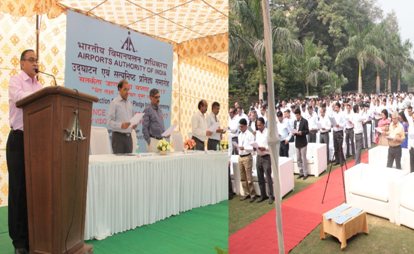 Inaugural Function and Integrity Pledge taking Ceremony was organized on 30th October, 2017 on observance of Vigilance Awareness Week – 2017 at Airports Authority of India, Corporate Headquarters, Rajiv Gandhi Bhawan, Safdarjung Airport, New Delhi.
Pledge taking ceremony was presided over by Sh. S. Suresh, Member (Finance), officiating Chairman, AAI in the august presence of Sh. Anuj Aggarwal, Member (HR), Sh. I.N. Murthy, Member (Operations), Shri Sanjay Jain, ED (Admn), Sh. S.N. Borkar, GM (Vigilance) and other AAI officials.
In the opening address, Sh. S. Suresh called upon all officials of AAI to resolve their commitment towards making AAI a corruption free organization with a vision to make India a developed nation and also to be one among the top in Global Civil Aviation Markets.