NLCIL organises HB level checking Camp for adolescent School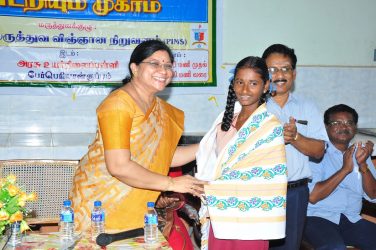 The Corporate Social Responsibility Cell (CSR) is conducting the Arogyaa Camps for rendering medical services with place utility to the villagers in and around NLCIL's project locations in Cuddalore District of Tamil Nadu State for the Development and the Socio-economic uplift of the region in coordination with Pondicherry Institute of Medical Science (PIMS) Puducherry. The total number of Arogyaa Camps for this year are 12 (10 medical camps and 2 Obstetrics / Gynecology camps).
Apart from these 12 camps , 4 additional special Camps for the Girl Children are planned i.e HB level Checking Camp for Adolescent School / College Girl Children. To mark a beginning this camp was organised at Government Girls HSS at Perperiankuppam.
The Camp was organised by Neyveli  Ladies club in coordination with the People Service Group, Neyveli .The camp was inaugurated by Smt. Shanthi Vikkraman, Patron of Neyveli Ladies Club in the presence of Shri R.Mohan, CGM/CSR, Shri Peter James, GM/CSR, Shri K.Ramesh, DGM/CSR.  Smt  Senthil  Nayaki, Headmistress welcomed the gathering.  Shri Peter James , gave details of the programme and Shri R.Mohan lauded the programme and praised Neyveli Ladies Club  for arranging such camps through CSR.
In this event around 300 student (above Xth  Std) participated. A special lecture and power point was presented by Dr. Shanmuga Priya from PIMS, Puducherry about the iron deficiency and its effects on Girl Children.  The Haemoglobin level was checked  for  all the student by PIMS/ PONDICHERRY.