MoUs worth 8,835 cr signed in textile sector during Vibrant Gujarat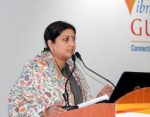 Union Textiles Minister Smt. Smriti Irani said that given the entrepreneurial spirit of Gujaratis & the investment inflow, the textile story of Gujarat has just begun. She said that as an area with one of the largest concentrations of textiles in India, Gujarat is a one-point sourcing hub for all kinds of textiles.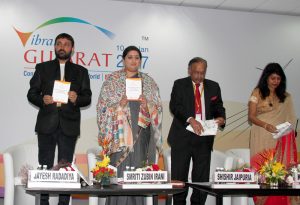 The Minister also said that there are huge possibilities in textile education in Gujarat. She said that the skill development programme in textile sector conducted at 28 ITIs of Gujarat running the Textiles courses has recorded a placement figure of 75%. The Minister said that two major institutes of Gujarat, namely, NIFT and NID, and various engineering colleges offer degrees in textile technology, textile processing and textile engineering. Smt. Irani was addressing the 'Make in Gujarat' theme seminar on "Trends & Innovation impacting the Textile Value Chain", at Vibrant Gujarat Global Summit in Gandhinagar, Gujarat today.
The Minister witnessed signing of MoUs worth Rs. 8,835 crore in textile sector during the seminar.  MoUs have been signed in different sectors such as textile parks, textile processing, machinery, carpet development, etc. The Textiles Minister said that Gujarat produces 29% of India's total cotton production; she said this indicates the trust of textile industries in the prospects of the state. Smt. Irani assured the support of her Ministry to the development of the textile value chain of Gujarat and to explore possibilities in technical textiles and research.
Shri Jayesh Radadiya, Minister of Food, Civil Supplies and Consumer Affairs, Cottages Industry, Printing and Stationery, Government of Gujarat; Dr. Kavita Gupta, Textile Commissioner, Government of India; Shri Shishir Jaipuria, Chairman, FICCI Textile Committee; Smt. Sunaina Tomar, Principal Secretary, Education Department, Government of Gujarat and other dignitaries were also present on the occasion.