Israel Aerospace Signed MOU with TAAL to manufacture Civil & Military Aircraft Crashworthy-Seats in India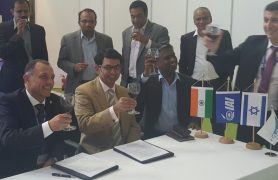 Israel Aerospace Industries, Ltd. (IAI), through its Golan Industries Division, and Taneja Aerospace & Aviation Ltd. (TAAL) of India, have signed a Memorandum of Understanding (MOU) to cooperate in the development, production, marketing and/or sale of civil and military aircraft crashworthy-seats.
The MOU was signed at the Aero India 2017 exhibition in Bangalore, India, by Shaul Shahar, IAI's Executive Vice President and General Manager of the Military Aircraft Group, and Salil Taneja, Chairman of TAAL.
IAI's Golan Industries Division has over 30 years of experience in the development and manufacture of crashworthy-seats solutions for civil and military aircraft, and TAAL is a pioneer in India's aviation industry, having manufactured aircraft as well as aircraft parts. The MOU is in accordance with the Indian Government's "Make in India" initiative, and includes collaboration between both companies in the production and marketing of civil and military aircraft crashworthy-seats, to be manufactured in India. In addition, the parties will explore the possibility of working with TAAL as an IAI subcontractor, to manufacture certain crashworthy-seat parts for current IAI production lines, and will also implement the joint development of a new generation of products.
Shaul Shahar, IAI Executive Vice President and General Manager of the Military Aircraft Group said: "IAI is excited about this collaborative venture with TAAL. We see this agreement as synergetic, one that benefits both our companies. We believe it will help to deepen our partnerships in India, one of IAI's most important markets."
Salil Taneja, Chairman, Taneja Aerospace and Aviation Ltd., said: "It is a great privilege for TAAL to be associated with IAI. TAAL believes that there is a growing market in India for Golan Industries' products. Golan Industries' product range fits in extremely well with TAAL's manufacturing capabilities, as well as with TAAL's strategy for venturing into specialized products for the aviation industry. TAAL is looking forward to a very fruitful and growing relationship with IAI."
About Israel Aerospace Industries:
IAI Ltd. is Israel's largest aerospace and defense company and a globally recognized technology and innovation leader, specializing in developing and manufacturing advanced, state-of-the-art systems for air, space, sea, land, cyber and homeland security. Since 1953, the company has provided advanced technology solutions to government and commercial customers worldwide including: satellites, missiles, weapon systems and munitions, unmanned and robotic systems, radars, C4ISR and more.  IAI also designs and manufactures business jets and aerostructures, performs overhaul and maintenance on commercial aircraft and converts passenger aircraft to refueling and cargo configurations.
About Taneja Aerospace & Aviation Ltd. (TAAL)
TAAL was the first sector company in India to manufacture aircraft. The company has since diversified into the manufacture of aircraft parts and assemblies. TAAL has close working relationships with all the aeronautical agencies in India such as HAL, ISRO, BEL, ECIL, ADE, CABS, and NAL as well as with all the Indian Defence Forces. TAAL's manufacturing facility is located at Hosur where it has a private airfield equipped with a 7000 foot runway.