INS Sharda foils piracy attempt in Gulf of Aden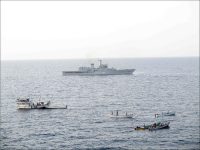 INS Sharda is presently on a deployment to the Gulf of Aden for anti-piracy patrol. On 16 May 2017, at about 1645 hrs, the ship received a distress call from MV Lord Mountbatten, a Liberian registered ship, in position 230 nautical miles South-West of Salalah. The merchant vessel had reported an incident of attempted piracy by two suspicious mother vessels alongwith seven to eight skiffs. Sharda, which at that time was 30 nautical miles East of the reported position, immediately responded to the distress call and proceeded to investigate the incident.
On arriving in the area at about 1900 hrs, Sharda detected two dhows alongwith eight skiffs in vicinity, three of which fled the area at high speeds on sighting the warship. Indian Navy's MARCOS, with support of an armed helicopter from the ship investigated the dhows and their skiffs by conducting board and search operations. The absence of any fishing gear onboard the two dhows and the remaining five skiffs indicated malicious and possible piracy-linked intentions. One AKM rifle alongwith one filled magazine was found hidden onboard one of the dhows. The weapon and ammunition has been confiscated to prevent future misuse.