Indian Law Institute discusses Media & Human Rights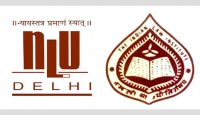 The Indian Law Institute Delhi and National Human Rights commission successfully organized One Day Programme for Media Personnel and Government Public Relation Officers on 'Media and Human Rights: Issues and Challenges'. Around 50 Government Public Relation Officers, Media Personnel's, Advocates, Academicians and Students actively participated in the programme.
Dr. Ranjit Singh, Joint Secretary (P&A), NHRC discussed on the subject while tracing the historical antecedents of the role of media on the protection and promotion of human rights. He shared his opinion that media is the voice of the people, media is the right and entitlement and it is undoubtedly a very important instrument in channelizing the youth while reaching to the unreached.
Prof. (Dr.) Manoj Kumar Sinha, the Director of the Indian Law Institute, New Delhi and a renowned expert of International Law and Human Rights elucidated the impact of media on the protection and promotion of human rights while discussing the international and national perspective of the subject.
The One day programme ended with the interactive sessions actively initiated by the participants and the experts.