Haryana govt to implement online transfer policy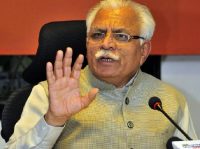 The Haryana government would implement an online transfer policy in all the departments of the state government, Chief Minister Manohar Lal Khattar said here .Addressing a public rally here, he said in the first phase, the online transfer policy would be launched in about 16 departments by April 1.
He said advertisements for 50,000 vacant posts lying in government departments were released and examinations for 35,000 posts were conducted, and soon the Haryana Staff Selection Commission would announce the results.
The state government has so far carried out recruitment to fill 13,000 posts, the chief minister added.In order to recruit capable candidates on government posts, interviews for Group C and D posts were stopped, he said.The main aim of making recruitment on merit basis is to end corruption and provide good governance to people, he said.If a capable candidate is recruited, the aim of such recruitment would be fulfilled, Khattar said.
This would also help in providing benefit of government schemes and services to people easily, the chief minister said.He said the BJP government was working for the welfare of all sections of the society without any bias.
The government was also making equitable development of all the regions so that no region or section of the society remained backward, he said.
The maximum number of development projects announced by him were completed, he said.
In Jind district, many development projects worth about Rs 200 crore were completed and work on those projects foundation stone of which has been laid lately, would begin soon, he said.
Taking a dig at the opposition parties, he claimed that the previous governments had left many big development projects incomplete, but the BJP government had not only worked to complete these projects, but also initiated many new development projects.
The chief minister urged the party workers to generate awareness among the people about all development works being carried out in the district so that the opposition parties could not mislead the people.