HADR capabilities demonstrated during Exercise Prakampana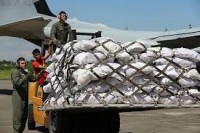 The second day of ongoing Joint Disaster Management Exercise named Prakampana witnessed Humanitarian and Disaster Relief (HADR) capability demonstration beginning with display of air assets of IN and IAF at Naval Air Station INS Dega followed by demonstration of HADR operations from IN Ships at Naval Dockyard, and a Static Demonstration of HADR assets of all participating stake holders at HADR Campsite near Samudrika grounds. All participants of the exercise visited all three sites and were given an insight into the nuances of disaster relief operations.
The air assets demonstration included AN-32 aircraft involved in airlifting relief material and as Air Ambulance and 2 Mi17 heavy lift helicopters of the Indian Air Force in addition to Dornier, Seaking, UH3H and Chetak helicopters of the Indian Navy. Demonstration inside Naval Dockyard included IN Ships Jalashwa and Gharial loading/unloading of HADR relief material while INS Nirupak demonstrated the role of an Hospital Ship. Indian Coast Guard Ship Samudra Paheredar demonstrated the pollution response capabilities. The demonstration at the HADR campsite included setting up Incident Command Post and display of various equipment used in road clearance and relief operations from Engineers Regiment and Medical Team from Southern Command, NDRF, State Disaster Management Authority (SDMA), District Disaster Response Team, BSNL, Naval Diving Team and Indian Navy Disaster Response Team.
IndianBureaucracy.com wishes the very best.