Government aims to provide Housing to all by 2022 | Narendra Modi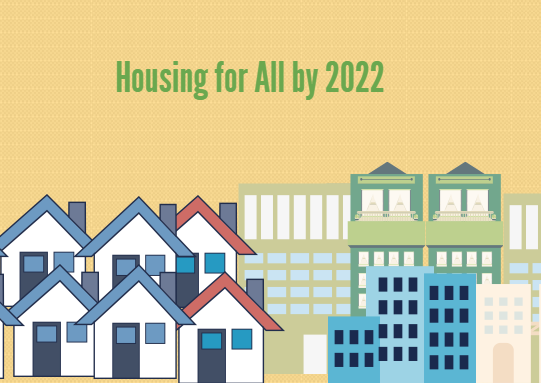 Prime Minister Narendra Modi said the government has decided to give a house to each and every homeless family by 2022. He was addressing a public meeting at Shahanshahpur in Varanasi district this morning. PM Modi distributed allotment letters to the beneficiaries of Pradhan Mantri Awas Yojana both for rural and urban areas.
About 10 thousand beneficiaries were given allotment letters during the function. Prime Minister said construction of houses on a large scale will also generate employment and improve quality of life of the common man.
Mr Modi said, government has launched a drive against corruption and black money and introduction of GST and linkage of Aadhar cards with different schemes are a part of the drive.
Prime Minister said, promotion of animal husbandry, introduction of modern technology in agriculture and maintenance of soil health cards are the need of the hour to double the farmers' income.Mr Modi said, improvement in cow breeds and good health of animals will be helpful to farmers to increase their income and will attract them towards animal husbandry.
On second and final day of his Varanasi visit, Prime Minister also visited the Pashu Arogya Mela and met farmers and doctors. He said, wellness fair of animals -Pashu Arogya Mela – will be helpful to the farmers to keep their animal husbandry in good health. Underlining the need for public support for success of Swachchhata drive, Mr Modi said, a sense of responsibility for cleanliness must be developed in each and every person.
The Prime Minister appreciated the local villagers for taking measures for creating Open Defecation Free villages and constructing toilets in every house. He also appreciated the naming of toilets as Izzat Ghar.
Mr Modi conducted Shramdan in the village in completion of a toilet and said that it was his worship. Addressing the meeting, UP chief Minister Yogi Adityanath announced holding of Pashu Arogya Melas in every district.