Foreign tourist arrivals seen growth of 16.5% in Jan 2017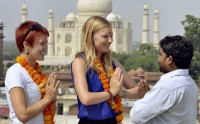 Foreign tourist arrivals to India for the month of January this year has seen a growth of 16.5 percent as compared to the same period last year. An official release said, the number of Foreign Tourist Arrivals in January were 9.83 lakh.
During the month, a total of one lakh 52 thousand tourists arrived on e-Visa as compared to 88 thousand during the month of January 2016 registering a growth of 72 per cent. This outlines the steady success of e-Visa facility in quantifiable terms.
Tourism Ministry shall be presenting monthly estimates of Foreign Tourist Inflows to India from now on as well as the Foreign Tourists who availed e-Visa facility.