Electronic major eyes 200 acres at JNPT SEZ | Nitin Gadkari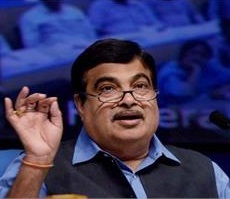 Keen to set up an about Rs 6,000 -crore facility at JNPT Special Economic Zone (SEZ), a global electronic major has sought 200 acres there, Union minister Nitin Gadkari said. JNPT is one of the top 12 major ports under the control of the Centre.
"A global electronic major has sought 200 acres of land at JNPT SEZ. It is keen to invest Rs 6,000 crore and create employment to the tune of 40,000," Gadkari, who holds the portfolio of shipping, road transport, highways, water resources, river development and Ganga rejuvenation.
However, he did not disclose the name of the firm or the country.Sources said it is an electronic major from Taiwan.
Earlier, the minister said Taiwan-based IT major Foxconn has sought 13 acres at Jawaharlal Nehru Port Trust's SEZ.
When asked whether it is the same firm, the minister replied in negative.The contract manufacturer Foxconn makes products for global device brands like Apple, BlackBerry, Amazon, Motorola, Xiaomi and Sony and has bulk of its factories in China."Foxconn has sought a land parcel of 13 acres in the special economic zone in JNPT and I have spoken to Maharashtra chief minister about the project," Gadkari has said earlier.
Foxconn Technology Group is one of the world's largest electronic manufacturing contractors, headquartered in New Taipei City, Taiwan. It is the third-largest information technology company by revenue.
Country Head and MD, Foxconn International Holding India, Josh Foulger had earlier this year met the then commerce minister Nirmala Sitharaman to discuss support for exporting mobile phones from the country.
JNPT Mumbai handles over 40 per cent of Indian exim (export-import) volumes.
Under the Sagarmala initiative, 14 SEZs are being set up across the country.