Department of Defence Production and GSL signed MoU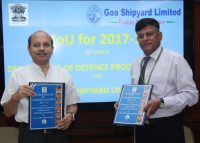 Goa Shipyard Limited (GSL), a miniratna Defence Public Sector Undertaking (DPSU) signed a Memorandum of Understanding (MoU) for the financial year 2017-18,. The annual MoU was signed between Secretary (Defence Production) Shri Ashok Kumar Gupta on behalf of the Ministry of Defence and Chairman and Managing Director (CMD), GSL Rear Adm (Retd) Shekhar Mital.
This year's MoU target for 'Revenue from Operations' has been set at     ₹ 1150 crore, which is 43 percent higher than the financial year 2016-17 target of ₹ 800 crore. Notably in financial year 2016-17, the Shipyard achieved historical high VoP of ₹ 1030 crore and PBT of ₹ 177 crore. GSL was adjudged as 'Best Performing Shipyard' by MoD. Target for PAT to Networth ratio has been set at 13.30 percent.