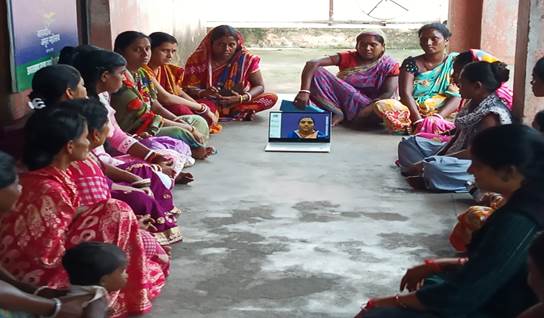 The fourth edition of Gender Samvaad, a collaborative effort between the Deendayal Antyodaya Yojana-National Rural Livelihoods Mission (DAY-NRLM), Ministry of Rural Development, and the Institute for What Works to Advance Gender Equality (IWWAGE), was successfully organized yesterday. This unique initiative aims to provide a shared platform for raising awareness about DAY-NRLM's gender-focused initiatives across India, with a particular emphasis on amplifying the voices of stakeholders at the state and self-help group (SHG) levels.
The virtual event saw the participation of over 8000 individuals, including senior officials from the Ministry of Rural Development, the Ministry of Women and Child Development, and the Government of Bihar, as well as state government officials, practitioners, gender experts, academia, civil society actors, and SHG members.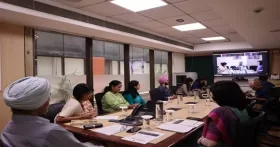 In his keynote address, Shri Charanjit Singh, Additional Secretary, Ministry of Rural Development, expressed concern about gender-based violence statistics and stressed the vital role that community-based institutions can play in addressing this issue. He also emphasized the importance of inter-ministerial collaboration, particularly with the Ministry of Information and Broadcasting and the Ministry of Education, for awareness generation and sensitization.
Smt. Smriti Sharan, Joint Secretary of DAY-NRLM, highlighted the extensive efforts undertaken by DAY-NRLM to empower women and establish model institutions that address women's issues in rural areas, especially through the Gender Resource Centre platform.
Community resource persons (CRPs) from various states, including Jharkhand, Kerala, and Odisha, shared their experiences and institutional strategies for addressing gender-based violence. Smt. Rajani Dandasena from Odisha highlighted the success of the Prerna Kendra (Gender Resource Centres) at the Gram Panchayat level, which have forged strong connections with other departments through Gender Forums and have effectively addressed cases of violence, including issues like witch-hunting, drug abuse, and sexual violence.
Smt. Mahua Roy Chaudhary from Jeevika, Government of Bihar, stressed the significance of gender training, learning pedagogies, and the use of Information, Education, and Communication (IEC) materials in creating gender-responsive institutions, particularly Didi Adhikar Kendras, to address deeply rooted issues in patriarchy and social norms. She also highlighted the importance of political empowerment for women at the ward member and mukhiya levels in the state.
The event featured a panel discussion with participation from the Ministry of Women and Child Development, gender experts, and women's rights lawyers. The panel emphasized the importance of State Rural Livelihood Missions (SRLMs) and legal remedies, including fast-track courts, horizontal and vertical gender training, and inter-ministerial convergence, as well as innovative financing for sustainability, safe spaces for women, strengthening data-driven governance, and enhancing the economic agency of women.
The discussion also highlighted the potential for convergence between Naari Adalats under Mission Shakti and Gender Resource Centres under DAY-NRLM.
The fourth Gender Samvaad, held under the theme of preventing gender-based violence through convergence and innovative, locally relevant solutions, concluded with a call for collective action to address the core issues affecting women in India.