BMC Election Results 2017 LIVE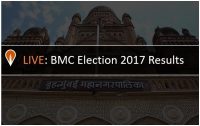 Welcome to the live coverage of Brihanmumbai Municipal Corporation (BMC) election results which will decide the fate of the two front-runners, BJP and Shiv Sena. The Uddhav Thackeray-led Sena currently controls the civic body.
3:35pm From across the country, Bihar Chief Minister Nitish Kumar sends his congratulations to the Shiv Sena. But it might turn out to be premature. Latest trends show the Shiv Sena down to 88 and BJP leading in 77 seats. It's getting tighter at the top!
3 3:20pm In Pune, the BJP is well on course to topple Sharad Pawar's Nationalist Congress Party. The BJP has 65 seats to the NCP's 32 so far.
3:10 pm A candid admission from Congress leader Milind Deora, who says the party failed to curb infighting and play up local issues.
3:05 pm More defiant talk from the Shiv Sena. "People's mood has changed," says party leader Sanjay Raut. "BJP is on notice period. People showed their trust in Shiv Sena, not in BJP"
. 3:00 pm For the Congress, it's now about saving face. The party has climbed a notch to 29 seats, but still well short of its 2012 tally of 52.
2:55 pm It's not all over for the BJP in Mumbai though. The party is fast catching up and now has leads in 78 seats to the Shiv Sena's 93.
. 2:50 pm Another indication that the BJP wants the focus to be away from Mumbai. Here's what Commerce Minister Nirmala Sitharaman has to say: