Bharat Parv to begin at Red Fort in Delhi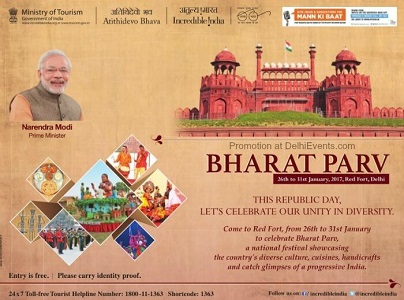 As part of the Republic Day celebrations, cultural extravaganza Bharat Parv will begin at the Red Fort in Delhi today. The prime objective of the event is to generate a patriotic mood, promote the rich cultural diversity of the country and to ensure wider participation of the general public.
The event includes display of Republic Day Parade Tableaux, Performances by the Armed Forces Bands, a Multi-Cuisine Food Court, Craft Mela, Cultural Performances from different regions of the country and Photo Exhibition by the Directorate of Advertising and Visual Publicity.
The Cultural Performances include choreographed Folk and Tribal Dances and Music arranged through the North Zonal Cultural Centre as well as performances by cultural troupes from the different States and Union Territories.
The Craft Mela with 50 stalls will showcase the diverse handicrafts of the country. Bharat Parv will be open for public from 12 Noon to 10 PM till 31st of this month. The event is open for public and entry is free. However, identity proof is to be carried for entry to the event.