Ahead of President voting | 71% India votes in favor of Ram Nath Kovind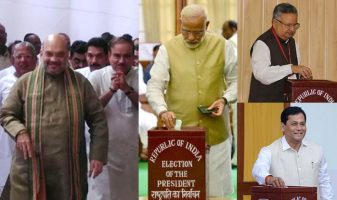 The current political environment is at the tipping point to discovering the 14th President of India. As the race to Raisina Hills approaches its finale on the July 17, InShorts, India's highest-rated news app decided to unravel what India wants. Hence, in association with Ipsos, the global market and opinion research specialists, InShorts conducted its proprietary Pulse of the Nation Poll to get in touch with the popular opinions surrounding the Presidential Elections. The poll witnessed the participation of astonishing 1,19,132 unique users. The results seemed to be clearly in the favor of NDA Nominee and former Bihar Governor, Ram Nath Kovind, who won the popular vote with 71% in favor.
Interestingly, 62% Indians feel the President should be a non-political figure.
Mr Azhar Iqubal, CEO and Co-founder, InShorts, said "While we wait to find out the next President of India on July 20th, at InShorts, we took stock of the popular opinions surrounding the presidency. Along with Mr Ram Nath Kovind, majority Indians also voted for Lt Gen Zameer Uddin Shah, Former Deputy Chief of the Army Staff, as their Vice President."
Mr Parijat Chakraborty, executive director, India, Ipsos Public said "Clearly, urban Indians see merit in the highest office being apolitical – the role is then non-partisan – more so if triangulated with popularity of India's Missile man, Dr. Abdul Kalam Azad, who held the prestigious post of President and was highly regarded for his contribution across multifarious areas including his vision of 2020 for modernizing the armed forces."
Key Findings:
Polarity between the Genders on the choice of the President
Although Ram Nath Kovind is leading with the majority of popular votes, it was interesting to witness the polarity between the preferences of the two common genders.  While only 27% males voted in the favor of Meira Kumar, 45% of females favored her candidature over Mr Kovind's.
Choice of the Vice-President appears more Diverse
While, Lt Gen Zameer Uddin Shah, Former Deputy Chief of the Army Staff is winning the popular polls with 35% of the total votes, he is closely followed by Murli Manohar Joshi, the Former HRD Minister of India, with 25% of votes. In addition, Gopalkrishna Gandhi, Former West Bengal Governor is the third popular choice with 20% votes. The top 5 is concluded by Najma Heptullah, Governor of Manipur (11%) and E. S. L. Narasimhan, Governor of Andhra Pradesh and Telangana (9%).
62% favors a Non-Political President
Perhaps it's time we witnessed more of scientists, educationists, or perhaps entrepreneurs as the Head of the Nation. While 62% Indians would like to have a President without a Political Background, 22% feels that the background doesn't matter. However, 11% Indians are strictly against having a President from a non-political background, and the remaining 5% choose not to reveal their opinion.
40% Indians believe the post of President is Very Critical; 37% says it Doesn't Matter
India appeared divided on the role of the President. While 40% believe that the role is Very Critical, since the person is heading the nation, 37% view the Presidency as merely a symbolic post. Furthermore, 15% of Indians believe that the post should be abolished as it is a waste of taxpayer's money, although 8% refrained from commenting.
65% of voters aged between 18 to 30 years
The survey was dominated by the age group of 18-30 years, constituting 65% of the sample size. Users aged between 31 to 45 years comprised 22% of the sample, with 7% of users aged between 46 to 60 years, 4% under 18 years and the remaining 2% over 60 years.
"This is somewhat alarming – only 40 per cent regard President's role as important; 37% feel it's symbolic and 15% feel it should be abolished –  people are now questioning the rationale of the post of Presidency – given its high cost and diminishing relevance." added Mr Parijat Chakraborty, executive director, India, Ipsos Public
About InShorts
Inshorts is India's highest-rated news app, with more than 8 million downloads on Android and iOS. The app curates the most significant news items of the day, across categories like national, world, politics, business, sports, technology and entertainment, in just 60 words with a link to read the stories that interest them, in detail.
This enterprise was set up by a team of IITians, Azhar Iqubal & Anunay Arunav of IIT Delhi and Deepit Purkayastha of IIT Kharagpur in 2013. Their entrepreneurial journey began from TLabs incubator in 2013 which was followed by a seed round from Times Internet and a group of angel investors including the founders of Flipkart. In 2015, Inshorts raised a Series A round from Tiger Global and Rebright Partners, landing its Series B within 4 months, from Tiger Global.
Inshorts also continues to be India's highest-rated news app on Android since January 2014 with a rating of 4.6, and in 2015 was included by Google India in its list of 50 best Android apps from India. By mid-2016, Inshorts garnered more than 8 million downloads on Android and iOS and is serving more than One billion page views every month since.
IndianBureaucracy.com wishes the very best.