Aero India 2017-Breathtaking display by military aircrafts and aerobatic teams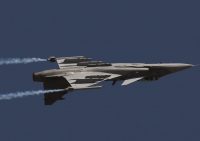 The Indian Air Force base in Yelahanka is hosting India's largest aerospace and defence expo from February 14 to 18.
Billed as Asia's premier air show, the biennial edition of International Aerospace and Defence Exhibition – Aero India 2017 was inaugurated by Union Defence Minister Manohar Parrikar.
A total of 549 companies are taking part in the event, of which 270 are Indian and 279 foreign.
Mi-17 helicopters, indigenously built HAL products comprising Light Utility Helicopter (LUH) flanked by Cheetal helicopter, Advanced Light Helicopters (ALH) and the Light Combat Helicopter (LCH), formation comprising Dornier Do 228, Light Combat Aircraft Tejas, HTT-40 (Basic Trainer Aircraft) and Hawk and others have been showcased at the event by India.