Lt Cdr Manu Mishra awarded Nao Sena Medal (Gallantry)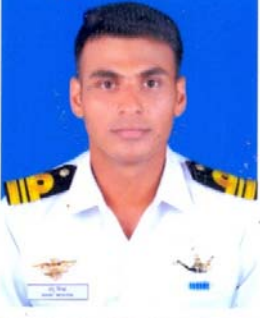 Lt Cdr Manu Mishra (06671-K)r has been working as Prahar Commander in INS Karna since 16 Sep 16, At about 1300 Hrs on 15 June 18, a directive was received by the Unit form HQENC regarding urgent deployment of a Marine Commando Buddy Pair to INS Dega for onward deployment to Kalaikunda to prevent grounding of MV SSL Kolkata, which had caught fire, and was adrift at sea. The Ship's Cargo included toxic chemicals and had been abandoned by her crew. The Officer, as ever, rose to the occasion and volunteered for the mission. The Officer's tasking was to avert a major ecological disaster by leading a Joint Team of the Navy and the Ship's Crew to prevent the Vessel from running aground. A Seaking 42 C helicopter was tasked to ferry the team onboard the Vessel. On 16 Jun, as the helicopter approached the Vessel, in situ appreciation indicated unsuitability of the weather deck for personnel deployment, due to high temperatures caused by the raging fire onboard. Inclement weather, strong winds and random explosions further exacerbated mission complexity. At this juncture, the Officer realized that a no go would surely result in a major ecological disaster.
With utter disregard to personnel safety, he volunteered to winch onboard the distressed vessel and assess feasibility thereon. As he was being winched down, explosions continued; unfazed, he continued with the mission. Once on deck, the professionally astute and audacious Officer quickly analysed the scenario, and using a Thermal Imaging Camera identified a safe spot onboard the distressed vessel for landing of other team members. He maneuvered the team to the forecastle of the ship and kept them motivated till the task of letting go of the anchor was achieved successfully. Once it was ascertained that the anchor was holding and the drift arrested, he ensured safe extraction of all team members, before winching out himself. He led from front and assisted all other members for their safe landing and kept their morale high in the prevailing treacherous condition while the ship was on fire,  adrift with heavy sea tossing the unmanned ship. On successfully achieving firm anchoring of the drifting and abandoned ship, he also ensured safe winch up of his team mates. He was the first man in and the last man out from the stricken ship which shows his exceptional courage, leadership and sense of duty. The officer's act has displayed amply his exceptional courage, leadership and sense of commitment. His selfless act is in keeping with the highest traditions
of the Navy, for which Lt Cdr Manu Mishra, (06671-K) has been awarded Nao Sena Medal (Gallantry).
Indian Bureaucracy Dot Com wishes Lt Cdr Manu Mishra the very best.