REC to support Infrastructure Development Projects in Mahbubnagar, Telangana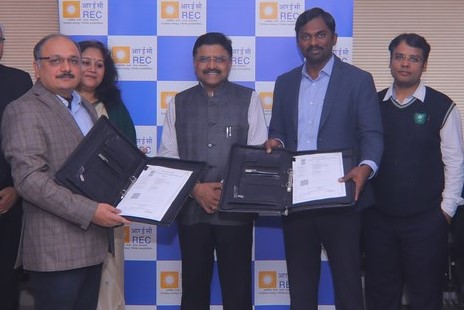 REC Foundation, the CSR arm of the Navratna Central Govt. PSU REC Limited, signed a memorandum with the District Megistrate, Mahbubnagar, extending CSR support of Rs. 2.51 crore for construction of compound walls and providing gates in 24 government schools. The project is aimed at facilitating easy student movement and guarantee safety for the children.
The agreement was signed on 6th February 2019 between Shri S N Srinivas, CEO, REC Foundation and Shri D Ronald Rose, DM, Mahbubnagar in presence of Dr. P V Ramesh, CMD, REC Ltd. and other senior officials of REC and DM office.
About the Company:
REC Limited (formerly Rural Electrification Corporation Limited) is a Navratna NBFC and Infrastructure Finance Company (IFC) focusing on Power Sector Financing and Development across India. It provides financial assistance to state electricity boards, state governments, central/state power utilities, independent power producers, rural electric cooperatives and private sector utilities. Its business activities involve financing projects in the complete power sector value chain; different type of projects includes Generation, Transmission, Distribution Projects and Renewable Energy projects.