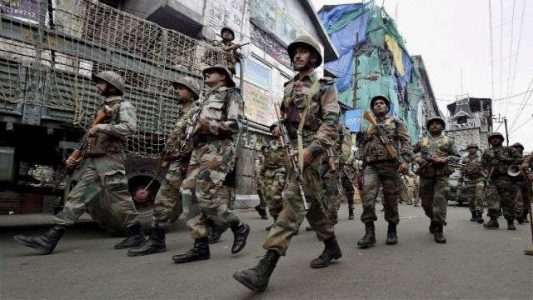 Minister of State for Home Affairs, Shri G. Kishan Reddy has informed that Modernization of Central Armed Police Forces (CAPFs)/Assam Rifles (AR)/National Security Guard (NSG) is a continuous process as per their operational requirements. CAPFs/AR/NSG have been allocated funds for their modernization and improvement of efficiency through acquisition of latest state-of-art weapons, clothing, specialized vehicles and equipment.
An amount of Rs. 8593 crore was spent for buying state-of-art arms and ammunitions, new vehicles and availing other latest technology by CAPFs/AR/NSG during the last three years.
The Government has taken several steps for welfare of CAPFs personnel. It has been the constant endeavour of the Government to enhance the housing satisfaction for the CAPF personnel.  An amount of Rs. 1765.60 crore was spent towards Residential Buildings for CAPFs during 2018-19.
There has been a significant enhancement of existing Risk & Hardship Allowances of CAPF personnel deployed in the State of Jammu and Kashmir and Left Wing Extremism (LWE) affected districts for Anti Naxal Operations.  Free air travel is available for CAPFs personnel from Jammu to Srinagar and back on duty/leave and also from Delhi to Srinagar and back on duty. Medical facilities comprising of thirty three 50-Bed Composite Hospitals, six 100 Bed Composite Hospitals and one 200 Bed Referral Hospital for CAPFs personnel. The Government  has approved establishment of a Central Armed Police Forces Institute of Medical Sciences (CAPFIMS) comprising of a Medical Institute, a 500-bed General Hospital, a 300-bed Super Specialty Hospital, a Nursing College, a School of Paramedics at Maidangarhi, New Delhi at an estimated cost of Rs.1368.53 crore.
The forces buy weapons from both indigenous and foreign sources. Weapons are bought from foreign countries on the basis of global tenders as per extant rules.
The requirements of the forces are constantly evolving and efforts are made by the Government to meet them as per assessment of the need of the forces.