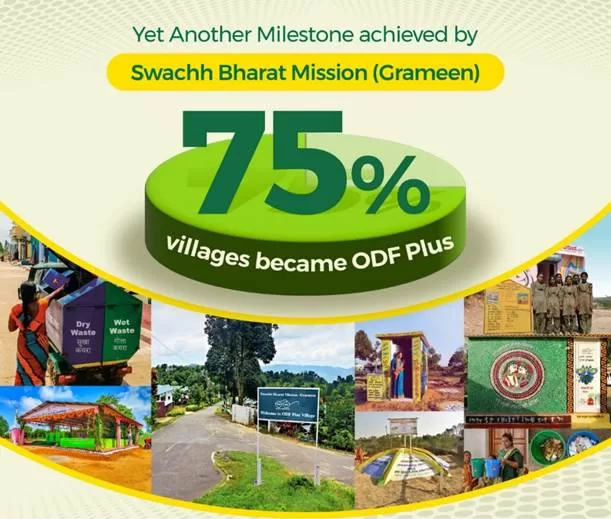 Under the second phase of the Swachh Bharat Mission (Grameen), India has reached a significant milestone with 75% of its villages achieving the ODF Plus status. An Open Defecation Free (ODF) Plus village is one that has maintained its ODF status while implementing solid or liquid waste management systems. To date, more than 4.43 lakh villages have declared themselves as ODF Plus, marking substantial progress towards the Phase II goals of the SBM-G to be achieved by 2024-25.
Top-performing States and Union Territories (UTs) that have achieved 100% ODF Plus villages include Andaman & Nicobar Islands, D&N Haveli, Goa, Gujarat, Himachal Pradesh, Jammu & Kashmir, Karnataka, Kerala, Ladakh, Puducherry, Sikkim, Tamil Nadu, Telangana, and Tripura. Notably, Andaman & Nicobar Islands, Dadra Nagar Haveli & Daman Diu, Jammu & Kashmir, and Sikkim have also achieved 100% ODF Plus Model villages.
The Union Minister of Jal Shakti, Shri Gajendra Singh Shekhawat, praised the success, emphasizing that the achievement aligns with Prime Minister Narendra Modi's vision for "Sampoorna Swachhata" (total cleanliness), which includes effective waste management and recycling, turning waste into wealth. He highlighted that SBM-G Phase II aims to make all villages ODF Plus by 2025.
Key components of Phase II include sustaining ODF status, solid waste management, plastic waste management, liquid waste management, faecal sludge management, GOBARdhan, information education and communication, and capacity building.
The entire budget outlay for SBM Phase II is 1.43 lakh crores, with contributions from SBM-G, 15th Finance Commission funds, and MGNREGA. Shri Shekhawat commended the efforts of states like Uttar Pradesh, Bihar, and West Bengal, which have shown high expenditure on SBM-G funds this year, focusing on building sanitation assets, promoting behavior change, and implementing waste management systems.
The achievement of 75% ODF Plus villages coincides with the Swachhata Hi Seva (SHS) campaign, running from September 15 to October 2, 2023, under SBM-G. SHS-2023 encourages community participation with the theme of 'Garbage Free India,' reinforcing the "Jan Andolan" (people's movement) to meet SBM-G targets.
Key achievements of SHS-2023 include the participation of 5 crore people and over 2.05 crore engaging in Shramdaan (voluntary labor). Activities encompass cleaning beaches, riversides, waste sites, public places, water bodies, institutional buildings, and garbage vulnerable sites.
In addition to the 34 States/UTs in SBM-G, approximately 42 partner Ministries/Departments actively participate in SHS 2023.
SBM-G's accomplishments in solid waste management include 2,380 Plastic Waste Management Units, 1,78,556 waste collection & segregation sheds, and over 3 lakh vehicles for effective waste management. Plastic waste is also being recycled for road construction and in cement factories. Approximately 1.59 lakh gram panchayats have passed resolutions to ban Single Use Plastic (SUP).
For bio-degradable waste management, the focus is on community-level composting, with 4,94,822 community compost pits constructed and 1,78,554 waste collection sheds in place. Over 2,603 blocks have adopted Plastic Waste Management Units.
In greywater management, 63% of villages have achieved success, contributing to ODF Plus achievements. The remaining 37% of villages are working toward the same.
Under Faecal Sludge Management, twin pit toilets are recommended for in-situ treatment of liquid waste. As of now, 1198 Faecal Sludge Treatment Plants (FSTPs) and 765 Sewage Treatment Plants (STPs) are operational in various districts. Hot Spot Districts with septic tanks are being addressed, and 316 districts have initiated linkage with existing STPs/FSTPs.
SBM-G continues to promote effective waste management in rural areas and aims to achieve comprehensive cleanliness and sustainability in sanitation practices.