"TERI breathes and lives sustainability every single day," underscored Mr M Ramakrishnan, Member- Governing Council, TERI and Managing Director & CEO, Tata Chemicals Limited as TERI enters its 50th year of institution. "The world is undertaking a huge amount of transition.
We know that there is a humungous opportunity, a humungous work ahead in terms of transition," he added urging TERI and India to be at the forefront of driving a responsible, inclusive, and innovative solutions for sustainable development and climate action. With the foundation of the organization laid down by Mr JRD Tata and Mr Darbari Seth in 1974, TERI in its long, eventful, and accomplished journey, has toiled tirelessly to mainstream sustainability in India and the Global South. At a time when the world was still debating the life altering effects of climate change, TERI was spearheading policy, advocacy, and technological innovation regionally, nationally, and internationally.
Geopolitical shift, sustainability, technology, and AI are the four transitions that TERI and India needs to be at the forefront of as we move ahead to tackle the bourgeoning highlighted Mr Mukundan in his Keynote Address.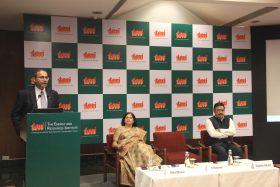 By forging partnerships and collaborations with governments, multilateral organizations, philanthropies, and corporations for the last fifty years, our work across the fields of energy, climate, sustainable agriculture, sustainable habitat and infrastructure, nano and biotechnology has been driving transformational change to realise a green, inclusive, and resilient future for all.
Birthed at a time when the world was grappling not just with political turmoil in the face of a cold war but also an accentuating oil and gas crisis, TERI has become a leading voice with an unwavering focus towards finding answers to the planet's present and future crises. Reflected in the organization &  ethos is a steadfast dedication to cultivate holistic solutions to entrust a much more resilient planet back to the youth than what was borrowed from them.
"Fifty years ago, TERI was set up by the TATAs as an energy research institute. Led by Dr Pachauri over most of these years it broadened its reach to cover climate change and several other sustainable development issues in its advocacy, analytical research, and technology development.
Over the next fifty years its strength must extend its reach to all emerging challenges to sustainable development which will be the greatest challenge to human well-being in India and elsewhere," said Mr Nitin Desai, Chairman- Governing Council, TERI.
From providing policy recommendations to help the country chart pathways for responsible growth to bringing together heads of large corporates and steering them towards carbon neutrality, TERI has impacted lives both within and beyond national boundaries, underscored Mr Desai.
Highlighting the organisation's pioneering work, visionary leadership, and unmatched human resource, Dr Vibha Dhawan, Director General, TERI stressed, "Throughout this incredible journey, TERI has been at the forefront of driving sustainable solutions and catalyzing positive change. Our success is a testament to the dedication and unwavering support of our 1000 plus employees, partners, and stakeholders." "As we look ahead, we remain committed to pushing boundaries, finding innovative solutions, and accelerating the transition to a sustainable future," added Dr Dhawan.