Security along LoC being further strengthened | Defence Minister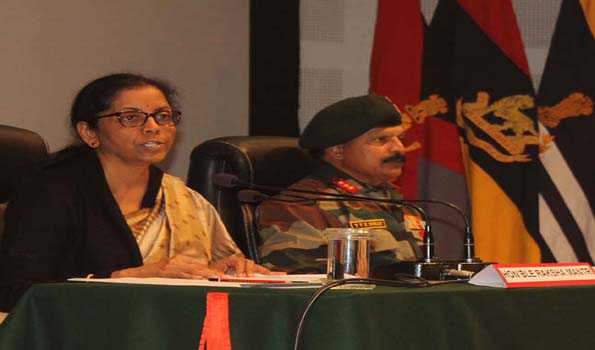 Defence Minister Nirmala Sitharaman has said that Pakistan is resorting to ceasefire violations to assist infiltration in Jammu and Kashmir. Talking to media persons, she said, central government is undertaking measures to procure modern electronic surveillance systems to stop infiltration from across the borders.
The Defence Minister was in Jammu on Monday to review the security situation in the state in view of Sunjuwan terror attack. Ms. Sitharaman said, Islamabad is expanding its arc of terror to areas south of the Pir Panjal Range in Jammu region.
She, however, said that infiltration from across the LoC has come down due to the deployment of the anti-infiltration obstacle system (AIOS) and a dynamic multi-layered counter infiltration grid. The Defence Minister said, security along the LoC is further being strengthened with electronic surveillance equipment. She said, with a view to enhance alertness along the borders, additional sensors, unmanned Aerial Vehicles (UAVs) and long range surveillance devices have already been deployed to cover the entire frontage of the LoC.
Ms. Sitharaman said, government is implementing Philip Compose committee report for the security of all military installations and a sum of 1487 crore rupees has been allocated in this regard. She said, terror activities in the hinterland are being controlled due to the relentless efforts of the security forces. The Minister said, the government will continue to thwart any attempt by Pakistan-sponsored terrorists to cause violence in the country and necessary steps to deal with them through counter terrorist strategy has been put into place.