Sanjiv Arora IFS appointed Secretary- Consular, Passport, Visa & Overseas Indian Affairs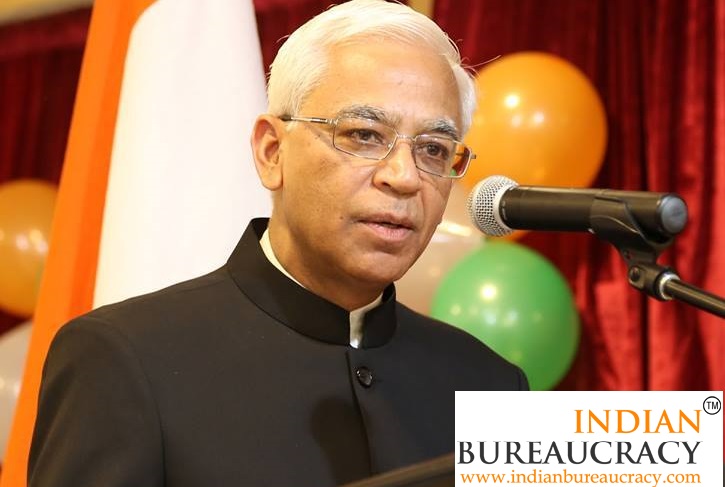 Shri Sanjiv Arora IFS (1984) presently Ambassador in Lebanon, has been appointed as Secretary -Consular, Passport, Visa & Overseas Indian Affairs (CPV&OIA) vice Shri Dnyaneshwar Mulay IFS (1983) with effect from 01.02.2019.
Shri Sanjiv Arora served as Additional Secretary in Ministry of External Affairs (MEA), New Delhi from October-December 2016, Ambassador to Qatar from August 2012-October 2016, and Consul General in Houston, Texas, USA from November 2008-July 2012.  His first posting was in Egypt (1985-88) where he learnt Arabic.  He has also served in Saudi Arabia (1988-1991), Germany (1994-1998), Sri Lanka (1999-2000) and the Czech Republic (2000-2003). Ambassador Arora was Head of United Nations (Political) Division in Ministry of External Affairs (MEA) from 2005-2008, and in that capacity, closely dealt with a wide range of issues related to India's foreign policy at the United Nations, including counter-terrorism, peacekeeping operations, UN reform, etc.  He was involved in Government of India's initiative leading to the UN General Assembly (UNGA) unanimously adopting a resolution to observe Mahatma Gandhi's birthday (2 October) as the International Day of Non-Violence.  He was Government of India's nodal officer for UNGA Sessions from 2005-08.  He was also responsible for issues related to the Non-Aligned Movement (NAM) and the Commonwealth during this period.
Shri Sanjiv Arora was on deputation to Ministry of Finance during 2003-05.  He dealt with India-Sri Lanka relations in MEA from 1991-1994. He later served in Sri Lanka during 1999-2000. Shri  Arora did his B.A. (Hons) and MBA from Punjab University. He is an Associate of National Institute of Advanced Studies (NIAS), Bengaluru and a Fellow of Asia-Pacific Centre for Security Studies (APCSS), Honolulu.   He is a life member of the United Service Institution of India (USI).  Before joining the IFS, he worked in the corporate sector and Reserve Bank of India.
Indian Bureaucracy Dot Com wishes Shri Sanjiv Arora the very best.