Rajiv Mehrishi takes charge as CAG of India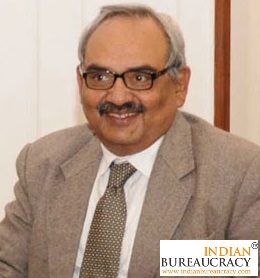 Shri Rajiv Mehrishi IAS (Rajasthan 1978 ) Former Union Home Secretary took over as the Comptroller and Auditor General (CAG) of India vice Shri Shashi Kant Sharma.
President Ram Nath Kovind administered the oath of office and secrecy to Mehrishi (62) at a function in Rashtrapati Bhavan, which was attended by Vice President M Venkaiah Naidu and Prime Minister Narendra Modi among other dignitaries, they said.
Shri Rajiv Mehrishi has served in various key posts in both Union and Rajasthan governments, like as the Chief Secretary of Rajasthan, Principal Resident Commissioner of Rajasthan, Principal Secretary (Finance), Chairman of Indra Gandhi Nahar Board and District Magistrate and Collector of Bikaner in Rajasthan Goverenment and as the Union Finance Secretary, Secretary (Fertilizers), and Secretary (Overseas Indian Affairs) in the Union Government.
IndianBureaucracy.com wishes Shri Rajiv Mehrishi the very best.