PM to inaugurate Global Entrepreneurship Summit | Ivanka Trump to address inaugural session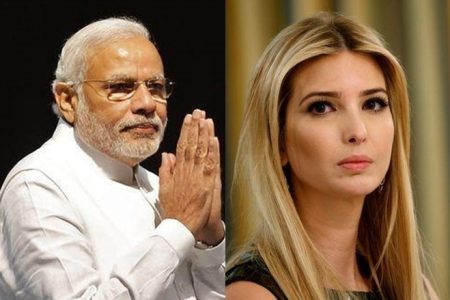 Prime Minister Narendra Modi will inaugurate the 8th edition of the Global Entrepreneurship Summit (GES) in Hyderabad today. It is a pre-eminent gathering of entrepreneurs, investors, and supporters from around the world. The three-day event hosted by India and the United States is being held for the first time in South Asia.
This year's summit theme demonstrates the commitment of the United States and Indian governments to the principle that when women are economically empowered, their communities and countries thrive. Women entrepreneurs help drive innovation and job creation, as well as address the world's greatest and most critical challenges.
US President's Advisor, Ivanka Trump will lead the US contingent. US Ambassador in India, Kenneth Juster informed that Ms Trump will be addressing the inaugural session and take part in two plenary sessions about women empowerment.
Niti Ayog CEO Amitabh Kant informed media in Hyderabad that for the first time women delegates are in majority representing 52.5 percent of 10 countries including Afghanistan, Saudi Arabia and Israel being represented by all-women delegations.
He said for India, the summit holds a special place as the country is focused more intensely than ever before to give entrepreneurs the opportunities and ecosystem to help them thrive.
Mr Kant said the Summit will highlight the enabling environment for innovation and entrepreneurship – including actions by the government to increase the ease of doing business, eliminating unnecessary regulations and supporting start-ups.
Amidst unprecedented security arrangements, the Global Entrepreneurship Summit will be taking off this evening in the IT hub, Hyderabad. The Summit will bring together nearly 1,500 entrepreneurs, investors and supporters of entrepreneurship from about 150 countries to create an environment that empowers innovators, particularly women to take their ideas to the next level through networking and mentoring.
The NITI Ayog in partnership with the US State Department and other agencies and in coordination with the Telangana state Government is organising the prestigious event.
The Summit will focus in next three days on four innovative and high-growth sectors- including Healthcare and Life Sciences; Digital Economy and Financial Technology; Energy and Infrastructure and Media and Entertainment.
Over 100 innovative start-ups, products, services and processes will also be exhibited in the summit by using the multi-touch interactive wall, sensor-enabled touch screens, rotoscope mural technology and physical displays.
The event will have over 50 sessions consists of plenary sessions, breakout sessions, master classes, and workshops. Three networking sessions are also planned to enhance opportunities to interact with other participants. Lakshmi, Air News Hyderabad."
The prominent speakers include Cherie Blair, Founder, Cherie Blair Foundation for Women; Marcus Wallenberg, Chairman of a Swedish financial group; Chanda Kochhar, Managing Director and CEO, ICICI Bank and Tessy Thomas, Director, Defence Research and Development Organisation (DRDO).
High profile speakers include Union Defence Minister Nirmala Sitaraman, Foreign Affairs Minister Sushma Swaraj and Commerce and Industries Minister Suresh Prabhu.
Newly crowned Miss World Manushi Chhillar, actress Sonam Kapoor and Aditi Rao Hydari, tennis star Sania Mirza and captain of Indian women's cricket team Mithali Raj will add glamour to the event.
After making a beginning in 2010, the GES has been hosted in Turkey, United Arab Emirates, Malaysia, Morocco and Kenya. Last year in was held in Silicon Valley. India was given the opportunity to host GES during the US visit of the Prime Minister in June.