PM reviews Namaami Gange programme, asks officials to involve people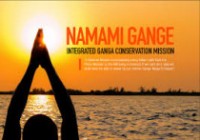 Prime Minister Narendra Modi has directed the officials related to the Namaami Gange programme to involve the people in the task of cleaning the river.In a meeting held in New Dlehi to review the progress of the Namaami Gange programme, Mr Modi also stressed on the need to further increase public awareness about the project.
During the course of a presentation on the subject, senior officials from various Government departments apprised the Prime Minister of action taken so far, and progress made on this programme.
Our correspondent quoting official sources reports, the Sewage Treatment Capacity in towns along the river was being enhanced substantially, and considerable focus was being placed on large cities along the Ganga main stem, including Haridwar, Kanpur, Allahabad, Varanasi, Patna, Bhagalpur, Howrah and Kolkata.
Mr Modi was also apprised of the considerable progress made in rural sanitation in villages along the banks of the river Ganga.
Top officials from the PMO, NITI Aayog, Ministry of Water Resources, Ministry of Drinking Water and Sanitation, National Mission for Clean Ganga and Central Pollution Control Board were present at the meeting held last evening.